Rejuvenate your skin and keep it shining and clean.
Removing dead skin cells can make a signifigant change in your appearance, feeling and your skin health.
To keep your skin healthy, radiant and youthful, your skin should have the right treatment.
Ronit Peer Skin Care carries the Dead Sea line and many others. The collections are formulated to meet the skin needs of each and every skin type.
The ingredients we use include Tetrapeptide (4 amino acids), Decorin (Collagen Fibris), Minerals, Vitamin E, avocado oil, seed oil, plants oil, sweet almond oil, Aloe Vera and more.
All Skin Care lines are Paraben free.
Hours
Sunday:

10:00am — 10:00 pm

Monday:

10:00am — 10:00 pm

Tuesday:

10:00am — 10:00 pm

Wednesday:

10:00am — 10:00 pm
Appointment Required. No walk-ins please.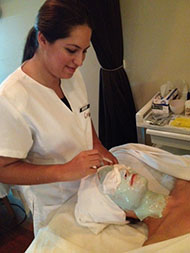 About Ronit Peer Skin Care
Our goal is to make your skin healthy and beautiful. We combine exceptional skills with premium grade cosmeceuticals tailored for your skin to guarantee immediate results. We provide home regimen recommendations based on your individual skin type and condition that will ensure long-lasting effects of the treatment. We have solutions for most skin conditions and offer minimally and non-invasive procedures with no downtime or side-effects. NYS Licensed Esthetician, Microdermabrasion Technician, Capri Cosmetology Alumna, experience from a Medical Spa (Eastchester).